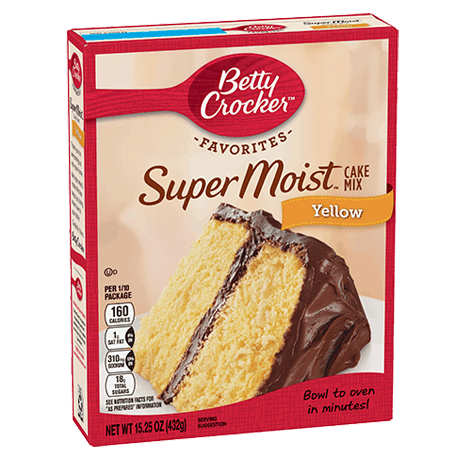 Super Moist Yellow Cake Mix
Nothing can lift your mood like a deliciously moist slice of freshly baked cake. With Betty Crocker Super Moist Yellow Cake Mix, all you need is oil, water and eggs to bring this delectable cake to life. It only takes a few minutes and you'll have this cake mix from the box to the oven. Keep your pantry stocked so you have some on hand whenever you or a loved one needs a little cheering up.
Contains Gluten (Trigo).
List of Benefits:
Ingredients
Harina de Trigo Blanqueada Enriquecida (Harina de Trigo, Niacina, Hierro, Mononitrato de Tiamina, Riboflavina, Ácido Fólico), Azúcares Añadidos (Azúcar, Jarabe de Maíz), Polvos para Hornear (Bicarbonato de Sodio, Fosfato de Aluminio y Sodio, Fosfato Monocálcico), Contiene 2 % o menos de: Almidón Modificado, Almidón, Ésteres de Propilenglicol de Ácidos Grasos, Sal, Monoglicéridos y Diglicéridos de Ácidos Grasos, Aceite Vegetal (Aceite de Palma), Fosfato Dicálcico, Estearoil Lactilato de Sodio, Goma Xantana, Goma Celulosa, Saborizantes Natural y Artificial, Colorantes (Amarillo 5 y Amarillo 6).
Contains Gluten (Trigo).
Nutrition Facts
Serving Size
1/10 package (43g mix)
Nutrition Facts

Nutrient Name

Per 1/10 pkg mix
As prepared
Calories
160
280
% DV ***
% DV ***
Total Fat
1.5g

2%

14g

18%

Saturated Fat
1g

4%

2.5g

13%

Trans Fat
0g
0g
Cholesterol
0mg

0%

55mg

19%

Sodium
310mg

13%

330mg

14%

Total Carbohydrate
36g

13%

36g

13%

Dietary Fiber
0g

0%

0g

0%

Total Sugars
18g
18g
Incl. Added Sugars
18g

36%

18g

36%

Protein
2g
4g
Calcium
100mg

8%

110mg

8%

Iron
0.9mg

6%

1.2mg

6%

* Not a significant source of Vitamin D and Potassium.
** Amount in mix. As prepared, one serving provides 14g total fat (2.5g saturated fat), 55mg cholesterol, 330mg sodium, 4g protein and 1.2mg iron.
*** The % Daily Value (DV) tells you how much a nutrient in a serving of food contributes to a daily diet. 2,000 calories a day is used for general nutrition advice.
Ingredients, nutrition facts, and allergen statements can change. Always refer to the actual package for the most complete and accurate information.