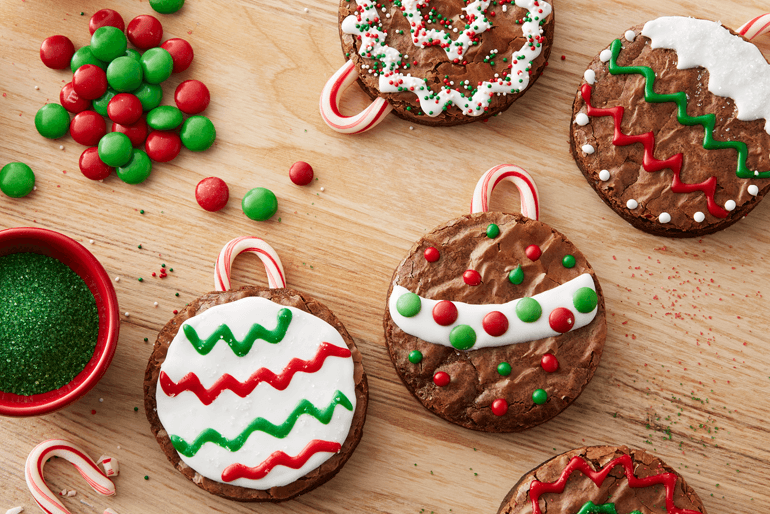 Easy Brownie Ornaments
Total Time: 2 Hours 50 Minutes
Easy-to-decorate brownie ornaments make a fun holiday project for kids of all ages!
---
Ingredient List
1 box (18.3 oz) Betty Crocker™ fudge brownie mix

Water, vegetable oil and eggs called for on brownie mix box

12 small candy canes

Betty Crocker™ Decorating Cookie Icing (assorted colors), if desired

Betty Crocker™ Decorating Sprinkles (assorted colors), if desired

M&M's® milk chocolate candies (assorted colors), if desired
Preparation
Heat oven to 350°F. Line 13x9-inch pan with foil, letting foil hang 2 inches over sides of pan. Grease bottom and sides of foil with shortening or cooking spray. Make brownie batter as directed on box. Spread in pan.
Bake as directed on box or until toothpick inserted 2 inches from side of pan comes out almost clean. Cool completely on cooling rack, about 1 hour. Freeze in pan 30 minutes.
Using foil to lift, remove brownies from pan, and peel foil away. Use 3-inch round cutter to cut out 8 brownie rounds. Use 1 3/4-inch round cutter to cut out smaller rounds from remaining brownie. Set aside leftover pieces for snacking.
Cut hook off each candy cane; unwrap, and use to create hooks on brownie circles. Reserve remaining pieces of candy canes for another use.
Decorate as desired using icing, sprinkles and candies. Let stand about 30 minutes or until icing is set. Store covered in airtight container at room temperature with waxed paper between layers.
Recipe Tips
To evenly cut candy canes, cut with scissors while still in the wrapper, then unwrap and use.