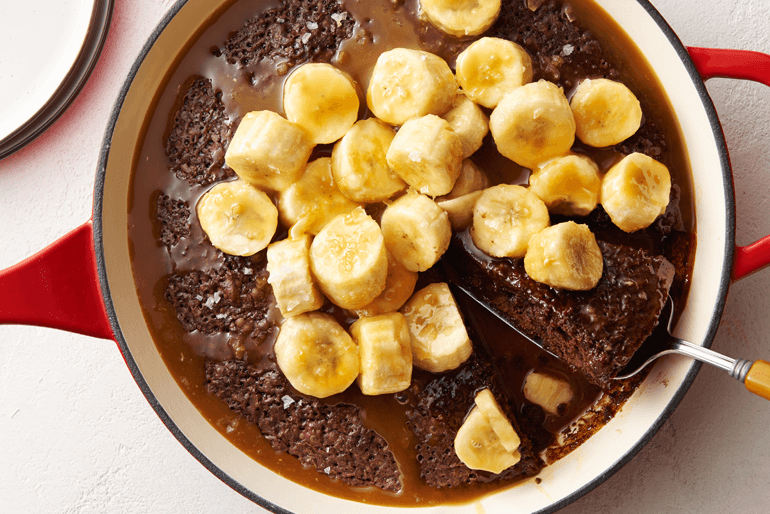 Salted Caramel-Chocolate Banana Skillet Brownie
Total Time: 1 Hour 25 Minutes
Caramelized bananas piled on top of a skillet brownie? Sign us up! This skillet dessert calls for just five ingredients and is made extra easy when you caramelize the bananas in the microwave.
---
Ingredient List
1 box (17.8 oz) Betty Crocker™ Supreme triple chunk brownie mix

Water, vegetable oil and eggs called for on box for cakelike brownies

⅓ cup salted caramel topping

3 ripe medium bananas, cut into 3/4-inch slices (about 2 1/2 cups)

Coarse sea salt, if desired
Preparation
Heat oven to 325°F. Grease bottom of 8-inch cast-iron skillet with shortening. Make brownie batter as directed on box for cakelike brownies. Spread in skillet.
Bake 38 to 41 minutes or until toothpick inserted in center comes out almost clean. Cool 30 minutes.
In medium microwavable bowl, mix caramel topping and bananas. Microwave uncovered on High 1 to 2 minutes, stirring after 1 minute, until bananas are softened and warmed. Pour on top of brownie. Cut into wedges; sprinkle with sea salt.
Recipe Tips
For extra indulgence, serve with vanilla ice cream!
Microwave ovens vary, so carefully watch to avoid burning or overcooking the caramel.