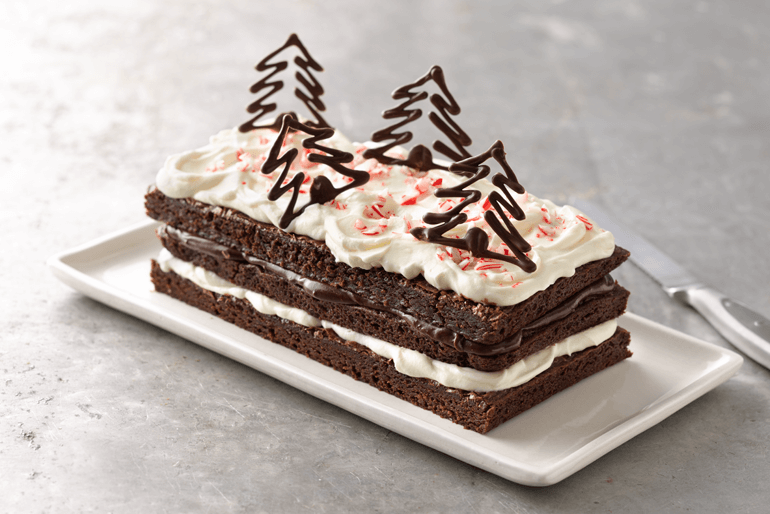 Peppermint Cream Brownie Torte
Total Time: 2 Hours 25 Minutes
Brownies get dressed for a party with layers of peppermint cream and decadent chocolate ganache
---
Ingredient List
Brownie
1 box (18.3 oz) Betty Crocker™ fudge brownie mix

Water oil, eggs called for on brownie mix box for cakelike brownies
Chocolate Ganache
¼ cup heavy whipping cream

½ cup semisweet chocolate chips
Peppermint Cream
⅔ cup heavy whipping cream

6 oz cream cheese, softened (from 8-oz package)

⅓ cup powdered sugar

½ teaspoon peppermint extract
Chocolate Trees
1 cup semisweet chocolate chips

1 teaspoon shortening
Preparation
Heat oven to 350°F. Line 13x9-inch pan with foil, letting foil hang 2 inches over ends of pan. Grease bottom and sides of foil with shortening or cooking spray. Make brownie batter as directed on box for cakelike brownies. Spread in pan. Bake 22 to 25 minutes or until toothpick inserted 2 inches from side of pan comes out almost clean. Cool completely on cooling rack, about 1 hour.
Meanwhile, in 1-quart saucepan, heat 1/4 cup whipping cream over low heat until hot but not boiling; remove from heat. Stir in 1/2 cup chocolate chips until melted. Let stand at room temperature about 1 hour or until slightly thickened.
In medium bowl, beat 2/3 cup whipping cream with electric mixer on high speed until soft peaks form; set aside. In medium bowl, beat remaining Peppermint Cream ingredients on low speed until blended; beat on medium speed until smooth. Gently stir whipped cream into cream cheese mixture; refrigerate until ready to use.
Using foil to lift, remove brownies from pan, and peel foil away. Cut brownies crosswise to make 3 equal rectangles. Trim sides if desired.
To assemble torte, place 1 brownie rectangle on serving platter; spread with 3/4 cup of the Peppermint Cream. Top with second brownie rectangle; spread with Chocolate Ganache. Top with third brownie rectangle; spread with remaining Peppermint Cream. Refrigerate uncovered until serving.
Meanwhile, place a piece of cooking parchment or waxed paper on cookie sheet. Draw 1 1/2- to 2-inch tree outlines or trace around 2-inch tree-shaped cookie cutter, leaving 1/2 inch space between each tree. Center toothpick at bottom of and 1/2 inch into each tree outline. In 1-quart saucepan, heat 1 cup chocolate chips and the shortening over low heat, stirring constantly, until chips are melted. Pour chocolate into decorating bag fitted with plain tip or resealable plastic bag; snip one corner. Starting at top of each tree outline, pipe chocolate over tree and end of toothpick within tree; fill center with random, squiggly lines. Refrigerate until chocolate hardens. Gently remove trees from paper; refrigerate until serving.
Just before serving, sprinkle torte with candies and arrange Chocolate Trees on top. Store covered in refrigerator.
Recipe Tips
For a sparkling finish, sprinkle white decorator sugar crystals over the torte.